Jeff and Martha Brooks established "A Certain Sound" in 1987 for the support of Ministers and Missions that have a burden to reach their homelands with the gospel of Jesus Christ. Over the years God has led them from the USA to Canada and then to over 25 other nations of the world with the life changing message of Jesus Christ. Jeff has a consuming passion to see God once again manifest His glorious presence in this generation.
email Jeff at:

Frank and Ruth Solorzano have been associated with Jeff's ministry for the past 30 years and with "A Certain Sound" since its' inception. Frank and Ruth worked with Jeff at First Baptist Church in Pigeon Forge for over two years and have now returned to Central America to begin a new work. In addition to having a powerful ministry in Guatemala, they have ministry opportunities in all of Central America plus the islands of the Carribean and Spain.
You can email Frank at: actssixfour@gmail.com
Roger and Grace Tsosie live in Shiprock, NM and minister primarily on the Navajo Reservation. The have evangelistic tent ministry called "Shekinah Fire" and spend the summer months going from place to place on the reservation conducting evangelistic crusades. Roger also ministers in churches and in conferences.
You can email Roger and Grace at: retsosie41@hotmail.com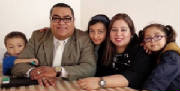 Ivan Solorzano joined our list of "Associates" in July, 2018. It is our joy and pleasure to welcome him and his family: Wife, Nancey, Daughters, Mercedes and Carolina and Son, Pablo.
Ivan is currently pastor of Tabernaculo Cristiano in Guatemala and also involved in the following ministries:
Pastor and Leadership Training, Evangelistic Preaching, Assisting with Missions Teams from USA and around the world, Serving as National Team Leader and Coordinator fro Samaritan's Purse in Guatemala.
Ivan is the son of Frank Solorzano who has been a part of A Certain Sound from its beginning. After God called him to ministry Ivan earned a Bachelor's Degree in Theology focused on Transcultural Missions from Dallas Theological Seminary branch in Guatemala.
Please be in prayer for Ivan as he departs fro ministry in Peru later this month.
You can contact Ivan via email at: ivsolafcla@gmail.com